Red, White, and BBQ
There is a mastery to mingling fire and meat — a blend of tradition, technical fire skill, patience, and love for meat. Barbeque (BBQ) is the culinary practice of cooking meat over a fire and is a staple in American food culture. Barbeque's diversity of flavors and techniques spreads across the map, but begins in a place our own Chef B calls home- North Carolina!
A Tale of Two Styles
North Carolina is home to the oldest ongoing barbeque tradition in North America, and it has been apart of their culture for more than 300 years! With two styles dominating the grill, Eastern style, and Lexington style- there continues to be a debate as to which style is superior.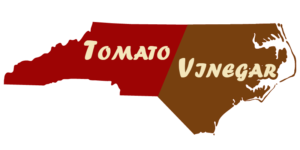 On the East coast, grill masters are famous for the use of the "whole hog", where the whole pig is barbecued, the meat is cut up and mixed together from all the parts of the pig. Additionally, this region uses a thin sauce made from vinegar and added spices like cayenne pepper. In the West, they're known for "Lexington Style" BBQ which is a homage to the town of Lexington, North Carolina. This style of BBQ focuses only on cooking the pork shoulder – which is mostly dark meat- and uses a vinegar-based sauce that is sweetened with a bit of ketchup.
Which style is better you ask? I wish I would answer that for you but it all comes down to preference!
Grilling VS BBQ
Now, to make things clear- I know a lot of us may use the terms "grilling" and "barbecuing" synonymously but, to be precise, they are not quite the same.
Grilling
Grilling is a more common practice, where one quickly cooks food like chicken, fish, or beef over a direct heat source with relatively high temperatures- this method creates a nice sear on the meat and is often done using gas or charcoal as fuel for the flame.
Time: Hot & Fast! 10-15 minutes
Temperature- High Temperature 500° F plus
Meat- Steak, chicken, burgers, fish
Heat Source- Gas or Charcoal Grill
Low and Slow
The term Barbecue references the art of cooking larger cuts of meat like a whole hog, pork shoulder, or brisket 'Low and Slow', either on a grill or a smoker. 'Low and Slow' refers to a low cooking temperature and the slow cooking time of the meat. This method allows the meat to be more flavorful, juicier, and more tender. Pitmasters can also select from an array of wood to best help flavor their meat and keep the temperature steady. Here you can find a list of the different types of wood used and which is the best wood/meat combination!
Time- Low & Slow! 4-24 hours
Temperature- Low Temperatures around 255° F
Meat- Large fatty meats, Pork Butt, Pork Shoulder, Brisket, and Ribs
Heat Source: Wood: Hickory, Cherry, Maple, Apple, Oak
Meals By Chef B's 5 Best BBQ Recipes
If you don't have the time or the expertise to try this intense style of cooking, don't worry! Meals By Chef B offers DELICIOUS North Carolina Style BBQ dishes delivered right to your door! Check out a few of my favorites below!
1. Carolina Hickory Pulled Pork
Chef B's love for this traditional North Carolina Style BBQ makes its way into his kitchen as he continues to cook pork shoulders the same way he did in Carolina- Low and slow, with hickory for over 18 hours, then pulled and lightly tossed with his House Carolina Sauce.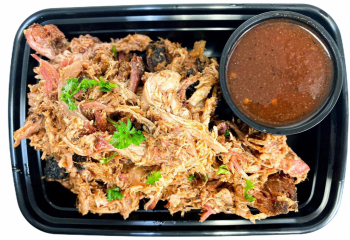 2. Pulled Brisket Sliders
Chef's Pulled Brisket Sliders are a must for any weekend BBQ! Cooked until majorly tender, pulled then stacked high on Toasted Hawaiian Rolls, English Farmhouse White Cheddar, Crispy Onion Strings, and House BBQ Sauce! Sinfully Delicious! They include all parts of the brisket from the Caramelized Bark to the Soft-Well Marbled Fatty Middle, and Lean Crispy Edges.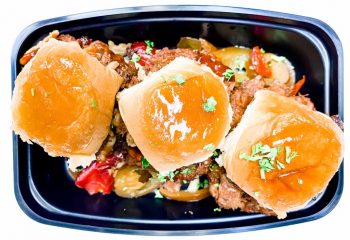 3. Backyard Smoked 1/2 Chicken
This recipe begins with All Natural Perdue 1/2 Chicken, Hickory smoked low and slow for a minimum of 6 hours backyard Carolina Style. Paired with Chef's Charred Veggie Medley, and brushed lightly while resting with Chef's toasted Garlic and herb dressing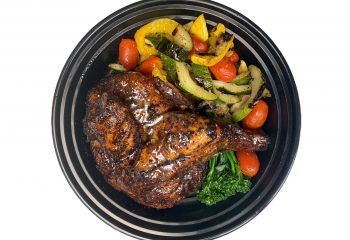 4. House Brisket Cheddar Jalapeño Bites
This delicious appetizer is cooked until majorly tender, pulled then tossed in-house BBQ Sauce. Stuffed into a fresh Jalapeño (mild, no seeds), roasted, and topped with melted cheddar. You'll never again miss those Fried Frozen things some restaurants Serve!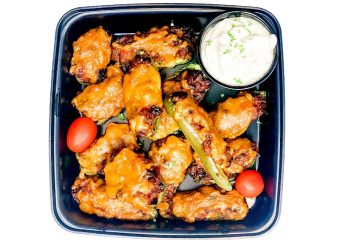 5. Keto 1/2 Rack of Baby Back Ribs
Of course, we cannot talk about BBQ without mentioning one of the classics- Baby Back Ribs! Chef B has created a complete sauce and rub profile that is Keto Friendly, AND DELICIOUS! These ribs have the same smoky flavor and tenderness that an all-day low smoke provides, without the sugar or carbs!